In celebration of the 2023 New Year Honours List bestowing a Knighthood on one of the greatest guitarists to pick up the instrument, Brian Harold May (Founder member, guitarist, vocalist, and lyricist with the Rock band Queen), here is a reappearance of the first interview I held with him on  his becoming Chancellor of Liverpool John Moores University (2008 – 2013)
They say never meet your heroes. They're wrong.
Interview with Brian May 2008
Chris High and Brian May Liverpool 2008
Dream, Plan, Achieve: Legendary Queen guitarist, Brian May, talks to Chris High about being Liverpool John Moores University's new Chancellor and the upcoming Queen tour.
Brian May cuts an imposing figure. Dressed from head to foot in black, the man that is a legend amongst guitarists and Rock fans the world over, still somehow manages to remain humble, dignified and, it has to be said, modest about his many achievements.
Now, adding to his plethora of music awards, theatre credits, songwriting acclaim and his Doctorate in Astrophysics more than thirty years on from when he started working for it, Dr. Brian May has been inaugurated as Liverpool John Moores University's new Chancellor. Having received an honorary fellowship in 2007 in recognition of his outstanding contribution to the arts, but more significantly for encouraging the public's understanding of science following the 2006 publication of his renowned book, Bang! The Complete History of the Universe, Doctor Bri is now Chancellor Bri.
'In all, it's taken around forty years to gain my Ph.D. and I can't tell you what it's like to finally achieve something I'd always set my heart on,' Brian said. 'When I began my studies, Queen was only just beginning. However, as we got more and more successful, the time to study properly diminished and so I decided to put everything on hold to concentrate on my music career. Now that I'm finally to receive the certificate from Imperial College London in May of this year, it really is such a thrill.'
'Being Chancellor of Liverpool John Moores on the other hand – and though no less an honour – is more of a job. I hope to be an effective figurehead and to help in any way I can and the overall aim is to bring even more notice to this wonderful seat of learning.'
When studying for his Doctorate, Brian came into close contact with Liverpool John Moores and its staff, via the excellent facilities that have earned the University a reputation of being second to none in the fields of Astronomy and Astrophysics.
'Although my role as Chancellor is not limited to Astronomy alone but is, rather, across the board, on a personal level I am going to be revisiting the themes of my thesis and we're currently developing a new spectrometer which will probably be based in La Palma, Tenerife. For me, as far as Astronomy goes, this is the long-term aim but, as always, I tend to be rather busy and the long arm of Queen keeps dragging me away.'
'I have to say though that Chris Collins and his team have made a great contribution to Science and, as a result, we are now a great deal closer to discovering if there are other planets out there that are similar to Earth.'
In 2006, Brian joined forces with veteran astronomer, Sir Patrick Moore, and fellow Sky At Night presenter, Chris Lintott, to write Bang! The Complete History Of The Universe (Carlton Books). The book has received much critical and academic acclaim.
Consisting of hundreds of spectacular photographs, some of which were taken by May himself, and a text that steadfastly refuses to be The Universe For Dummies it might so easily have become, Bang is beautifully accessible to the novice. The process of contributing to it was clearly a challenge The Chancellor enjoyed undertaking.
'It was a great experience although I started off with very little self-confidence, to be honest. When Patrick asked me I told him I didn't think I was qualified to do the job justice. However, he wasn't to be denied and the three of us eventually thrashed out every single word. It was Patrick who almost single-handedly wrote the first template in next to no time, which is the way he is about everything, and I'm so delighted he can be here at the inauguration ceremony.  He's such a fantastic man and a constant source of inspiration to me.'
With Sir Patrick having penned numerous science fiction novels, is this a field into which the guitarist might venture, given that he has already penned songs with Sci-fi themes such as the Queen classic, 39, and also his solo venture, Star Fleet Project, back in 1983?
'That's a really great question and an interesting thought, actually. It is one of the few things I haven't done. I'm currently in the process of writing a book on a celebrated series of stereo cards at the moment, (A Village Lost & Found) which is taking up my limited amount of free time, and, also, my thesis is going to be published, which is very nice.'
'I used to love Science Fiction when I was a kid and have read Patrick's books. Roger Taylor is also a big fan of Sci-fi of course, so who knows? Maybe. Some of the things people like Arthur C. Clarke were writing about years ago have actually come about, so it might be nice to let my imagination wander a little in that direction.'
Brian's thesis is a study of Interplanetary Dust that not only scatters solar light, called "Zodiacal Light", but also produces the thermal emissions that are the most prominent features of night-sky light. What was it that made him choose this area of study for his work above all others?
'Things happen in strange ways, sometimes. The department at Imperial was already involved in studying the area and had already tried to find a Dopler shift in absorption rays but hadn't been successful, so it seemed like a very interesting challenge to take up. It was also something that connected with my childhood because I used to collect everything as a kid, including cigarette cards. I remember there was one series of these called Glory Of The Heavens, with one of the cards showing a representation of Zodiacal Light I'd always found fascinating.'
'So, when the research was explained to me, something must have resonated at the back of my mind from way back then. It's also a pretty dark corner of astronomy because Interplanetary Dust is so hard to measure. That said, I always think finding an untrodden path to follow is always good. It's becoming something of a trendy area of study now, actually, because we have found dust clouds around other stars, but there is still plenty more to discover as always with these things.'
Brian was forced to give up his initial studies as Queen became the massive success they are, though this did not mean the guitarist ever turned his back on his passion entirely. Despite finding it difficult to find adequate time to indulge in his passion for the stars as much as he would have liked, May was still able to keep up to date with developments.
'I couldn't possibly have kept up with studying as I was, but I did keep in touch with what was happening in the field through reading as much as possible and, also, through my friends who continued their work over the years. I actually began finishing my thesis on the last legs of the Queen and Paul Rodgers tour of 2006, which worked incredibly well. I went back to my hotel room after being involved in  creating this massive high for myself and the audience having been on stage night after night, so found I could just immerse myself in my work.'
The next Queen + Paul Rodgers tour kicks off in Moscow during September and will, for the first time since 1979's Crazy Tour, see Brian and surviving Queen cohort, Roger Taylor, playing Queen hits in Liverpool along the way.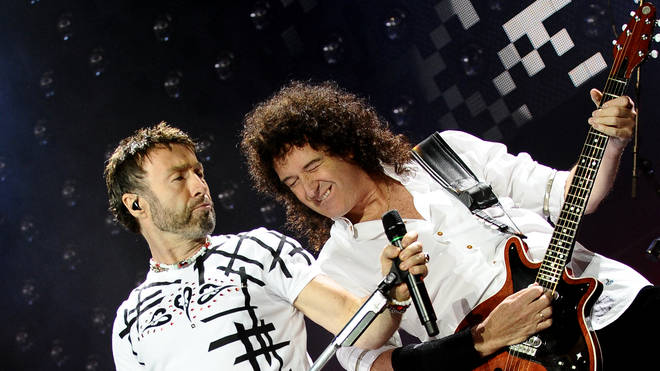 'Planning a tour all depends on what is available at the right time and you always get a couple of itineraries coming your way until something is finalised. I didn't realise it had been that long since we'd played Liverpool, but I do remember playing both The Empire and The Stadium in years past very well indeed.'
'This time around though it will be in the new Arena, which I can't wait to see. Queen and Liverpool go back a very long way, when we used to spend half our lives on the road and sleeping on people's floors. We played The Cavern too, of course, and have one of the bricks stencilled with the band's name outside of the new building, which is great. That was pretty late into our career, though, and we'd got to the point, almost, when we thought we were never going to get asked. It was a real thrill when we were though and I'm really looking forward to playing in the city again.'
Even after all of the tours, cities and countries Queen has played, the responsibility to get it right is paramount. 'It's pretty frightening gearing up for a tour. It's an all-consuming thing once you press the button that set the wheels in motion and the beast that is Queen comes alive. But we all get the same buzz once the adrenaline starts to flow.'
'Once the halls become available, the set design falls into place and then the rehearsals are upon you. It's like a gathering storm of stuff that has to be done, which seemed such a long way away when we first thought about going on the road again, last October in this case.'
'We have to finish the new album (Cosmos Rocks), so there's still plenty to do between now and when the first gigs happen, but I'm sure we'll manage it all somehow. We always seem to. Who knows this might be the last tour, so you'd better come,' he laughed.
Brian also revealed that there are plans afoot to stage a sequel to the smash hit musical, We Will Rock You.
'The success of Rock You has been very satisfying for me personally. Every time I go into the Dominion Theatre the place is full, which is just amazing, and the fact that people come back time and again makes it even more so.  The success of the show lies in the fact that there is always something new to see with each Company we have and our new Galileo, Ricardo Alfonso, has a voice to die for. He's astonishing.'
The musical opened in West End on May 14th, 2002, with Tony Vincent, Hannah Jane Fox, Sharon D. Clarke and Kerry Ellis in the principal roles and became an instant audience favourite, despite varied responses from critics. The story takes place in a tongue-in-cheek dystopian future where originality and individualism are shunned and a lone "Dreamer" appears, fulfilling a prophecy that will enable the return of Rock 'n' Roll.
'We also like to try to keep things as fresh as possible by updating the script as the need arises.  Just about two million people have seen the show now, so we must be doing something right, and we're hoping that the sequel will be the first to run concurrently with its origins in the West End. Ben [Elton] has already written the script, which is fantastic, and the whole thing is just one more brand new and very exciting challenge,' Brian smiled.
With regards to the funding scientific research is afforded in the UK, however, Dr. Brian May CBE, Hon DSc, ARCS and FRAS is less upbeat. 'I think it's a real shame that research is so underfunded, although I hope the situation will change as the people at the top change.'
'Everyone is going through a somewhat horrific time at the moment with regards to science in this country, I'm afraid, and it's wrecking our position in the international community, which is a rather sorry state of affairs it has to be said. Hopefully, as I say, this will change sooner rather than later, although it may not be soon enough for some.'
(C) Chris High at www.chrishighreviews.com